Master-classe Michael Hengst e Hyun Kim
23 de Maio de 2017 @ 14:00

-

19:00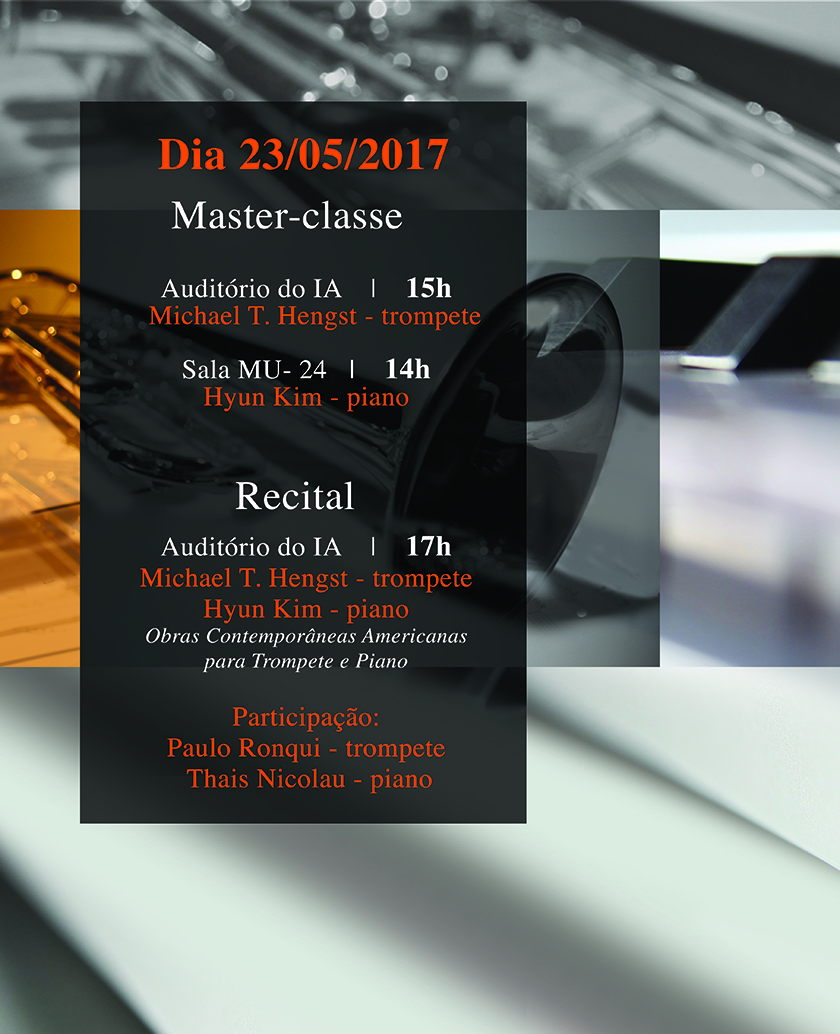 PROGRAMA
Centennial Horizon ……………………………………………………………………………………………….. Kevin McKee – (b. 1980)
Fantasia em Fm ………………………………………………………………………………………………………………. Schubert
Hyun Kim – piano
Thais Nicolau – piano
Sonata for Trumpet and Piano ………………………………………………………………………………. Eric Ewazen – (b. 1964)
1 – Lento – Allegro Molto
2 – Allegretto
3 – Allegro con Fuoco
Ponteio para as Alterosas ………………………………………………………………………………………… E. V. Côrtes
Convidados:
Paulo Ronqui – trompete
Thais Nicolau – piano
Les Noces del Many ………………………………………………………………………. José R. Pascual-vilaplana
Michael Hengst – trompete
Paulo Ronqui – trompete
Hyun Kim – piano
_____________________________________________________________________________________________________________________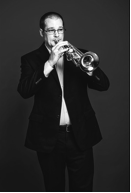 Dr. Michael T. Hengst teaches trumpet, serves as brass area director, and directs the Roadrunner Pride Pep Band at Metropolitan State University of Denver. Prior to his appointment at MSU Denver, he served on the faculties at The University of Texas at Austin and Southwestern University. Dr. Hengst holds a Bachelor of Music degree in Trumpet Performance from The University of North Carolina at Greensboro, where he studied with Edward Bach, and a Master of Music degree and a Doctor of Musical Arts degree in Trumpet Performance from The University of Texas at Austin, where he studied with Ray Sasaki.
Dr. Hengst has also been nationally recognized as a 1st prize winner in the 2001 UGA Brass Quintet Competition of the Americas, Finalist and Honorable Mention at the Crawford Trumpet Competition, 3rd Prize winner at the 2005 National Trumpet Competition in the Master's and Ensemble Divisions, and 4th Prize winner at the 2007 National Trumpet Competition. He has is a member of the Boulder Brass, and has played with the Colorado Ballet, the Boulder Philharmonic, the Fort Collins Symphony, the Breckenridge Music Festival, the Denver Brass, the Victoria Bach Festival, the Abbey Bach Festival, the Fayetteville Symphony, the Fred Hess Big Band, the Denver Municipal Band, and the Austin City Brass Quintet and Brass Ensemble.  Dr. Hengst has played throughout the United States and Europe.  He recently joined the faculty of the InterHarmony Music Festival held in Italy and serves on the artist faculty for the Rocky Mountain Trumpet Fest and the National Trumpet Competition. Hengst is a Bach trumpet performing artist.  He currently lives in Centennial with his wife Brooke, their twin daughters, and their rescue pugs and weimeraners.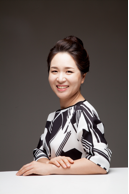 Pianist Dr. Hyun Kim was born in Seoul, Korea and began studying piano from an early age.  After her primary musical education in Korea, she completed bachelor's and master's degrees in piano performance and collaborative piano. She then moved to Paris, France, to study piano and chamber music at the Conservatoire national supérieur d'art dramatique de Paris. Afterwards, she went to the United States and earned a master's degree in collaborative piano and vocal coaching from the University of Cincinnati College-Conservatory of Music under Kenneth Griffith, James Tocco, and Sandra Rivers. She also studied organ and harpsichord performance while at Cincinnati. Kim then earned her doctorate from the University of Colorado Boulder in collaborative piano and studied with Anne Epperson. While she was studying for her doctorate, she also worked closely with the Takács String Quartet. Kim has been active as a solo pianist and collaborative performer was well as a vocal coach. She attended various music festivals as a fellow, including the Aspen Music Festival in the United States, the Grandin Music Festival, the Festival de Musique de Sully et de Loiret in France, and the Lucca Opera Festival in Italy. Kim has performed with members from prominent orchestras in the United States, such as the Cincinnati Symphony Orchestra, Colorado Symphony Orchestra, Atlanta Symphony Orchestra, and the New World Symphony Orchestra. She has served as an official pianist for several competitions, such as the Sterling String Competition, the Metropolitan Opera regional competition, the Denver Lyric Opera competition, and various young artist programs. Her performances and interviews have been broadcast on Colorado Public Radio and Rocky Mountain PBS. Kim has been on the faculty of Miami University, the University of Colorado Boulder, and she currently works at Metropolitan State University of Denver. She is active with several organizations internationally and her most recent projects have been with Song of the New Generation in Asia, an organization that she founded to promote research and performance of the contemporary art song medium, and as a board member with Sintonize Produtora Cultural in Brazil. She has given lectures and master classes at universities across the United States and Asia.